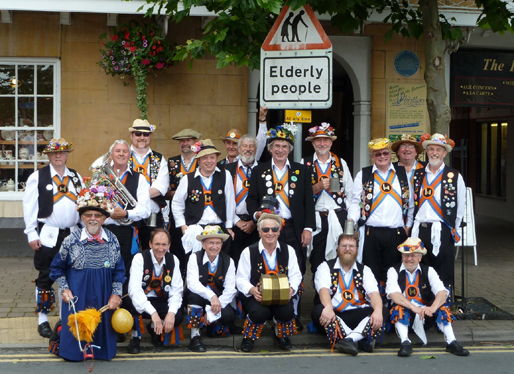 During the summer months we dance Cotswold Morris and the occasional dance from other traditions. You can find us in some unspoiled corner of the Chilterns near the borders of Hertfordshire, Bedfordshire and Buckinghamshire, in close proximity to a pub. We also go on trips, so you may even be lucky enough to stumble upon us somewhere else in England... or even abroad! But usually in close proximity to a pub. We're also well known for cracking a tune or two in the bar afterwards...
Contacts
Squire - >>Rob Kelly
Bagman - >>Lester Bailey - the man to contact about bookings, diary dates and stuff. If you're polite, pleasant & patient, Lester may be able to help you.
Treasurer - >>Chris Pearce
Webmaster - >>Tony Smith

Quotable Quotes
"Ah, something for your diaries - we're going somewhere - but I haven't got a date yet"

Badger - Philosopher-in-Residence

"Seeing you dance has been an unforgettable experience"
name withheld*

*he responded well to counselling but still has occasional flashbacks.
See us on YouTube
>>Morris v Rave*
*This film, commissioned by the ICA as part of the Dance School event explores the comparisons between traditional British Morris dancing and contemporary Rave dancing. Stick with it - it includes the incomparable philosophy of our very own Badger near the beginning and again near the end!
2013 Diary of Events
If you want to know where we will be in 2013 then >>click here
(If you want to know what we did in 2012 then >>click here )

Our Village


Our home village, Aldbury, lies not far from Tring in the far North-West of Hertfordshire, very near the Bucks border (and quite close to Bedfordshire, too). The village stands at the foot of the Chiltern hills, with the magnificent woods of Ashridge climbing above. It remains very picturesque, centred around its pond and green, the latter indulgently equipped with whipping post and stocks. >>click here for a map.